The concept of food delivery apps is not new to our dictionaries. The moment we think of food, applications like - Zomato, Swiggy, FoodPanda come into our mind instantly. We all enjoy the luxury of exploring several food menus and ordering food at our fingertips. The traditional business tactics have bygone, and the world is turning digital. In this tech-driven world, mobile apps have become an ideal to bridge the gap between users and brands. The increasing popularity of food delivery apps has led several entrepreneurs to invest in the app development market.
The global industry of food delivery apps helps in yielding high economic benefits to the retailers. The past few years have seen exponential growth in the online food industry. According to Statista, China is leading the global market with 655 million food delivery apps, followed by the USA with 111 million users. It clearly shows that the scope of growth of food delivery apps is on the rise and will continue to rise.
Foodelivery App Solution: The Perfect Online Food Ordering App




If you want to start your foodelivery app business, then Foodelivery is a perfect solution to cater to your business needs. Foodelivery is a ready-made online delivery solution that helps you create innovative apps with phenomenal features and functionalities. From customizations to development and deployment, the solution can provide you with a quick launch to the apps. So, if you are planning to launch a food delivery app like - Zomato, then Foodelivery is the perfect solution to make that happen.
Developing a mobile app is a roller-coaster journey. From creating the perfect action plan to executing that in the right direction, app development covers several steps in the journey. Foodelivery app solution can be a game-changer for your business as it will help you skip the traditional app development step and help you quickly launch your dream app.
The foodelivery app solutions include:
Customer App

Restaurant App

Delivery-Partner App
Exciting Features You Get With Foodelivery App
Foodelivery comes with some excellent features that can not only help you attract the target audience but also help you efficiently manage your business. Let's read what all you get with this solution:
Secure Sign-Up: The app allows the users to register and sign up with just email ids and phone numbers. Customers also get an option to register directly using social media accounts.
Restaurant Availability: Using the app, restaurant owners can update the restaurant availability in just one click.
Accept/Reject Orders: The delivery executives enjoy the freedom to either accept or reject the order request. When one executive rejects the requests, it automatically passes on to the nearby delivery executives.
Advanced Search: The customers also get an option to do an advanced search to choose their favorite restaurant, food, cuisine, and more by using the filter and sort option.
Profile Creation: Quick and hassle-free profile creation and manage their profiles option. They can add, edit, and delete the added information at their convenience.
Easy Payments: There are multiple payment options in the app making it convenient for the customers to pay.
Instant Notifications: Users get access to quick updates and order status at regular intervals through in-app alerts.
Route Optimization: Delivery partners can access the fast and best route to make on-time deliveries to the customers.
Track Orders: Once the order is out for delivery, admin, restaurant, and customers can easily track its location.
Feedback: The feedback option allows the customers to give feedback on food and delivery services to ensure quality services.
Earning Report: Quick view of daily, weekly, and monthly earnings.
Why You Should Choose Foodelivery App Solutions?
User-Friendly Application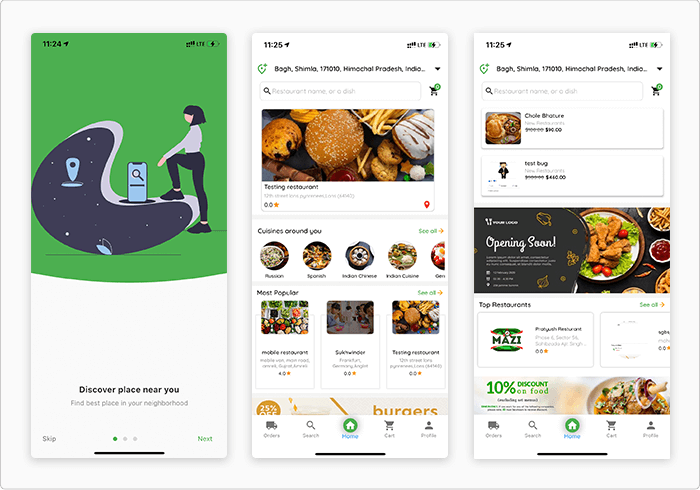 Our solutions offer complete assistance in launching the app on both iOS and Android platforms. Not just that, admins also get a powerful dashboard that allows them to manage orders, restaurants, and payments all in one place.
White Label Solutions
Keeping quality at the priority, our apps come in white-labeled structures, thereby enabling the users to make customizations such as - choosing the desired screen color, replacing the logo, changing the name, and more.
Scalability of Products
When it comes to product development, scalability is an important aspect to consider. We offer services that provide complete scalability options to the products. This makes it easy for the owners to cope up with the surging demand and changes.
Multiple Payable Options
Our solutions come with multiple payment options like - cash on delivery, debit and credit cards, net banking, integrated mobile wallets, and more. All online payment options are encrypted with the secure gateway, thereby allowing secure transactions.
Choose From The List Of Categories
The application allows the user to choose from different food categories and order the food at their fingertips. The admin can manage the categories and restaurants as per the locality.
Cost-Effective
Budget issues? Our online food delivery app solutions are cost-efficient and involve fewer operational costs. We allow easy and quick customizations that can easily be altered as per clients' budgets and requirements.
How Much Does It Cost To Create An App Like- Zomato?


Coming to the main question, the cost of developing an app like - Zomato. Well, if you wish to create an app just like - Zomato or Swiggy, it might cost you a lot. However, with ready-made solutions like - Foodelivery, you can make that dream possible in a cost-efficient way. The solution is a fast and secure means to launch your online food delivery app on iOS and Android platforms. The app can easily be customized as per your business needs and budget limits. Get a quote.
Wrapping Up
Unquestionably, the online food delivery business is definitely a ruling business industry this time. Several entrepreneurs have already invested in the same while others are keen to make their big move. If you wish to build your dream business with food delivery apps, then we can help. Get in touch with our professionals to share your business requirements. Our team will get back to you with the best solution.